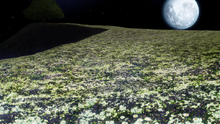 The daisy hill is a location near Kazamatsuri City, just beyond the forest. It is a place strongly associated to Kagari.
Description
Edit
The hill is filled with black and white daisies, and at the end is a tree. The daisies are very likely a reference to the Daisyworld Model.
In Moon Route, this is the place where Kagari does her research on the Theory of Life.
In Terra Route, this is where she gathers memories of humanity, and gain knowledge of them in the process.
Near the route's finale, Kotarou and Kagari met here for the last time before passing away. In the same spot, a tree grew very tall, as if it was trying to reach the moon. Years after, the five heroines went and summoned a familiar from the tree.