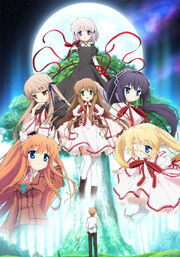 Rewrite is a television anime series based on the visual novel of the same name. The series' first season had 13 episodes, and premiered on July 2, 2016, airing on Tokyo MX, BS-11, Gunma TV and Tochigi TV, and is simulcast overseas on Crunchyroll and Daisuki.
Initially adapting the common route, the story later diverged from the source material, telling an anime-original route focusing on Kagari.
The sequel, titled Rewrite 2nd Season, premiered on January 14, 2017.
Staff
Director/Series Composition: Tenshou
Scenario: Takashi Aoshima, Tatsuya Takahashi
Script: Romeo Tanaka, Kai (Visual Art's)
Original Character Design: Itaru Hinoue (Key/Visual Art's)
Character Design/Chief Animation Director: Masayuki Nonaka
Art Design: Yoshinori Shiozawa
Art Director: Kazuhiro Inoue
Color Design: Tomomi Murakami
Director of Photography: Katsuhito Ogawa
CGI Director: Masato Takahashi
Editing: Mutsumi Takemiya
Music: Shinji Orito, Maiko Iuchi, Soushi Hosoi, Ryou Mizutsuki, Jun Maeda
The companies involved in the production are as follows.
Original Creator: Key/Visual Art's
Animation Production: 8-Bit
Music Production: Visual Art's
Production: Aniplex, Rewrite Project, Key/Visual Art's
Sound Production: Magic Capsule
Cast
The announced cast are the same as their respective voice actors in the visual novel, except for Chibimoth.
Episode List
#
Title[Note 1]
Airdate
1
"The World or Myself?"
"Sekai ka, Jibun ka" (世界か、自分か)
July 2, 2016
2
"The Place Where Youth Begins"
"Seishun ga Hajimaru Basho" (青春が始まる場所)
July 9, 2016
3
"Welcome, Supernatural Phenomena"
"Uerukamu, Chōjō Genshō" (ウエルカム、超常現象)
July 16, 2016
4
"Until We Return to Those Days"
"Itsuka Ano Hi ni Kaeru Made" (いつかあの日に帰るまで)
July 23, 2016
5
"Haruka Asahi"
"Asahi Haruka" (アサヒハルカ)
July 30, 2016
6
"Occult Club Activity Log"
"Okaken Katsudō Kiroku" (オカ研活動記録)
August 6, 2016
7
"A Place Lost"
"Ushinawareta Basho" (失われた場所)
August 13, 2016
8
"My Name is Kagari-chan"
"Waga Na wa Kagari-chan" (我が名わ篝ちゃん)
August 20, 2016
9
"Fate Begins to Turn"
"Mawari Hajimeru Unmei" (回り始める運命)
August 27, 2016
10
"Simply, As Friends"
"Tada, Tomo Toshite" (ただ、友として)
September 3, 2016
11
"Countdown"
"Kauntodaun" (カウントダウン)
September 10, 2016
12
"The Song of Destruction"

"Horobi no Uta" (滅びの歌)

September 17, 2016
13
"The Promise I Exchanged with You"

"Kimi to Kawashita Yakusoku" (君とかわした約束)

September 25, 2016
Music
An arrangement of Philosophyz is initially used as the opening theme, partnered by Modest Beginning as the ending theme. Both were replaced by End of the World and Word of Dawn, respectively, from Episode 8 onwards. Love Letter, Sunbright, To You Who Never Lie, and Beyond the Darkness were used as the ending themes for Episodes 4, 5, 10, and 13, respectively.
The background music came from the albums Rewrite Original Soundtrack and Feast, with some tracks from Dye Mixture and Crann mor. There were also some few tracks in the anime that were never released before.
Gallery
Trivia
The director of the anime series, Tenshou, was also in charge of the animation direction for the opening movie of the Moon route, where he went under the name of Motoki Tanaka.
Notes
↑

All English titles taken from Crunchyroll
Links
Community content is available under
CC-BY-SA
unless otherwise noted.